*Unfortunately, due to circumstances out of our control, we are currently experiencing unusually low supplies of some of our recycled boxes. Please call or email to confirm stock levels before placing orders. Boxfactory sells recycled cardboard boxes Brisbane wide and across Australia at extremely competitive prices.
For most ordinary packaging needs, recycled boxes are more than enough to get the job done. They're an especially excellent choice for those looking to save money and get more value from their boxes.
That's because Recycled Packing Boxes are considerably cheaper than new ones or those fresh from the factory. Recycled boxes allow you to get the same packaging capabilities as new boxes, but usually at a much lower cost. Boxfactory's selection of recycled boxes are also priced competitively, so you can be sure you're getting some of the best deals for recycled boxes no matter where you look.
Not only that, but using recycled cardboard boxes is also a more eco-friendly way of packaging or storing your items. This affects both sides of the consumer spectrum, allowing you the consumer and us the manufacturer to reduce our wastes.
This is especially relevant if your packaging needs do not require anything particular, such as in transporting regular products and equipment. By reusing packaging boxes as much as possible (within reasonable limits, of course), you'll be able to significantly reduce waste and resources used.
If you're looking for affordable recycled boxes that will work well for most standard packaging situations, our line of recycled boxes is the choice for you.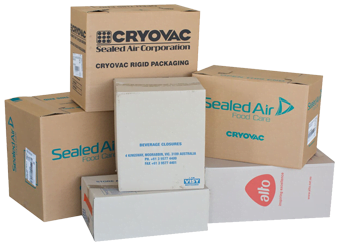 High Quality Recycled Packing Boxes
Rest assured that just because these boxes are recycled doesn't mean that they're inferior in quality. In fact, we sometimes buy recycled cardboard boxes from our very own clients, so we know the quality of the boxes and what they have been used for. Our boxes are high quality and reusable – we know this because we've designed and made them that way.
By occasionally sourcing our recycled boxes from our own clients, we're able to ensure their quality and provide assurance to their future owners.

Also, we only sell the highest quality recycled boxes that have been used once to carry goods. If it's damaged, we won't sell it. We know that quality and reliability are supremely important to you as a customer, so we won't sell recycled boxes that don't pass our strict standards of quality.
Many of our recycled boxes look and feel practically new, and you'll get the same functionality and packaging capability that any new box will provide.
At Boxfactory, we prove that not all sellers of recycled boxes are the same. Our line of recycled boxes are always high quality and functional, whether you're using them for standard purposes or more specialised needs. Quality matters to us, and we'll see to it that you'll get exactly that whenever you purchase boxes from Boxfactory.
At Boxfactory, we'll help you choose the right recycled boxes for your needs. Every situation is different, with some boxes more suitable for particular situations than others.
Get in touch with our team of specialists today to find out what's most appropriate for your case. Choosing the right type of box can make all the difference between an item arriving safely in your destination and one that's damaged or broken.
Our box experts will be able to recommend the best type of recycled box to safely transport or store your items. Whether you need custom boxes for special products or require features like extra padding and protection, we'll be able to find the most appropriate ones for your needs.
Benefits of using Boxfactory's Recycled Boxes
More affordable than new boxes
High quality guaranteed
Eco-friendly
Cardboard packaging boxes are one of the most easily recyclable materials available today. They're light, durable, and able to handle a variety of uses and purposes.
Recycled boxes are also great for holding household or office items during renovations. These allow you to safely keep your belongings without having to spend money on the full price of new boxes. Recycled boxes are also practical solutions for decluttering your home or office, for storage, for small businesses packing products, and for transporting greasy or dirty items such as used spare car parts.
But that's not all that that you can use recycled boxes for. Recycled cardboard boxes can also be used for a variety of other home projects and applications, making them valuable items to always have in the house.
Contact us today for your free quote!