Half Slotted Cardboard Boxes Brisbane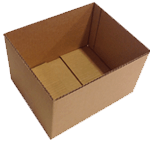 The Half Slotted Contained (HSC), with a cover, is a combination shipping & shelf package. This cartons flaps are located on the bottom of the box. These cardboard boxes are handy in applications where the cover will be removed repeatedly.

Suitability
Fruit & Vegetables or products that require varying height box

Advantages
Can have a telescoping lid for easy access

Used for Packing
Produce or products of unequal height

Other Information
Requires taping, gluing or stapling
Contact us today for your free quote!