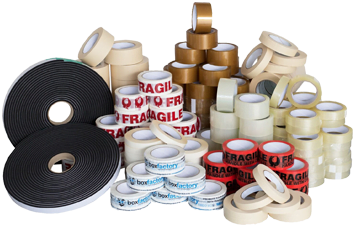 Boxfactory is a distributor for a leading Australian brand of Tapes. Whether you need packaging tape, masking tape, double sided tape, foam tape or any tape product, call us with your requirements and we will provide a quote that will not disappoint. Obviously, packaging tape is our speciality, Boxfactory stocks Rubber Based, Hotmelt and Acrylic Tapes for all packaging applications.
We have direct access to all adhesive tapes and have been successfully providing solutions to the Automotive, Marine and Manufacturing Industries, to name a few, for many years.
Printed Personalised Message Tapes are our speciality as well as printed stock message tapes and information labels such as Fragile, Top Load, Handle With Care, etc.
Contact us today for your free quote!