Full Flap Slotted Container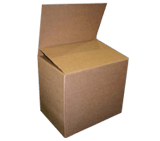 This style is again made from a single sheet of board, where the outer flaps overlap the full width of the box. The FFSC or FOL is especially suited to cartons that are very narrow in width.

Suitability
Heavy Products or Fragile items

Advantages
Very strong style of packaging

Used for Packing
Heavy machinery parts or fragile items eg, steel rods or motor spare parts

Other Information
Extra strong when combined with twin wall corrugated cardboard
Contact us today for your free quote!