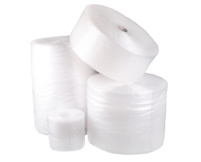 The perfect solution for all those fragile and valuable items is Boxfactory Bubblewrap. For added protection wrap all items individually and lay sheets inside the box. For larger goods (picture frames/prints etc) we also have Bubblewrap that is available at 1500mm wide and whatever length you require.
Sizes Available: 250mm, 500mm, 750mm, 1500mm
Custom Slitting & Perforating available, contact us for a quote
Contact us today for your free quote!