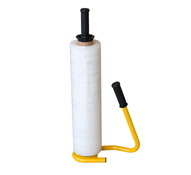 Need to secure your boxes, cartons, or products in their pallets? Use our high-quality pallet wraps to keep them safe. 
Also known as shrink wrap, pallet wrap is one of the essential items in the shipping and transport industries. They're designed to keep your items safe in pallets while providing an extra layer of protection from dust and light debris. This makes them especially useful for storing or transporting your items in pallets. 
You can also use pallet wrap for wrapping individual boxes, helping keep them airtight or providing a layer of protection from dust and dirt. 
Our pallet wrap is designed to be flexible yet durable, making it incredibly useful in packaging, transport, and storage activities. We offer different sizes of pallet wraps and tools like pallet wrap dispensers to make the job easier. To learn more about our pallet wrap products, call (07) 3344 2244. 
Contact us today for your free quote!