Die Cut Cardboard Boxes Brisbane
Is this what you want? Fill out our custom quote form.
Boxfactory has a vast selection of custom corrugated Die Cut style cardboard box dieformes  available to select from, which allows you to chose a style that will suit most products.
The Die Cut style of Box is particularly suited to Display, Presentation, POS and for products that require Custom Designs.
An advantage of Die Cut style of Box is that they usually do not require gluing or taping and if you chose from our existing Die Cut range there will not be any setup charges.
Note: Due to the extensive range available, not all diecut styles are kept in stock but are made to order on request.
Available Stock Size Boxes:
0215
Flip Lid Crash Lock Base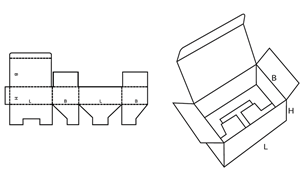 0210
Flip Lid Top / Flip Lid Base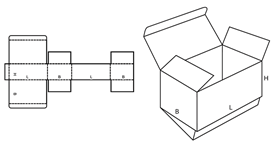 0471
Front Tuck in Flaps with Archive Base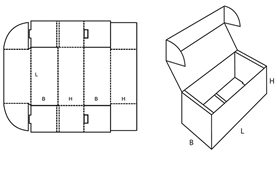 0427
Front Tuck in Flaps + Side Flaps with Lock in Base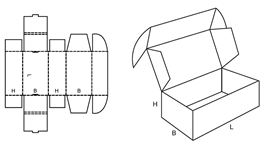 0421
Lock in Base / Flip Lid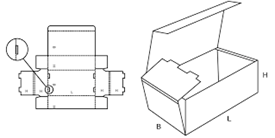 0470
Flip Lid with Archive Base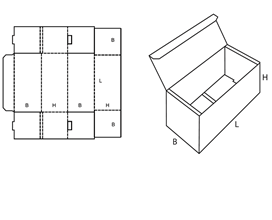 0426
Cake/Pizza Box Lock in Base / Flip Lid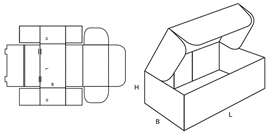 | | | | | | | | |
| --- | --- | --- | --- | --- | --- | --- | --- |
| | | | | | | | |
| | | | | | | | |
| | | | | | Flip Lid Top / Flip Lid Base | | |
| | | | | | Flip Lid with Archive Base | | |
| | | | | | Flip Lid with Archive Base | | |
| | | | | | Flip Lid with Archive Base | | |
| | | | | | | | |
| | | | | | Front Tuck in Flaps with Archive Base | | |
| | | | | | | | |
| | | | | | Flip Lid Top / Flip Lid Base | | |
| | | | | | Flip Lid Top / Flip Lid Base | | |
| | | | | | Flip Lid Top / Flip Lid Base | | |
| | | | | | Front Tuck in Flaps with Archive Base | | |
| | | | | | Flip Lid with Archive Base | | |
| | | | | | | | |
| | | | | | Flip Lid with Archive Base | | |
| | | | | | Flip Lid Top / Flip Lid Base | | |
| | | | | | Front Tuck in Flaps with Archive Base | | |
| | | | | | Flip Lid with Archive Base | | |
| | | | | | Flip Lid with Archive Base | | |
| | | | | | | | |
| | | | | | | | |
| | | | | | Flip Lid with Archive Base | | |
| | | | | | | | |
| | | | | | | | |
| | | | | | | | |
| | | | | | Flip Lid with Archive Base | | |
| | | | | | | | |
| | | | | | Front Tuck in Flaps with Archive Base | | |
| | | | | | Front Tuck in Flaps + Side Flaps with Lock in Base | | |
| | | | | | Flip Lid Top / Flip Lid Base | | |
| | | | | | | | |
| | | | | | Front Tuck in Flaps with Archive Base | | |
| | | | | | | | |
| | | | | | Flip Lid with Archive Base | | |
| | | | | | Flip Lid with Archive Base | | |
| | | | | | Flip Lid Top / Flip Lid Base | | |
| | | | | | | | |
| | | | | | Front Tuck in Flaps with Archive Base | | |
| | | | | | Front Tuck in Flaps with Archive Base | | |
| | | | | | | | |
| | | | | | Front Tuck in Flaps with Archive Base | | |
| | | | | | | | |
| | | | | | | | |
| | | | | | | | |
| | | | | | Flip Lid with Archive Base | | |
| | | | | | | | |
| | | | | | Front Tuck in Flaps + Side Flaps with Lock in Base | | |
| | | | | | Front Tuck in Flaps with Archive Base | | |
| | | | | | Front Tuck in Flaps with Archive Base | | |
| | | | | | | | |
| | | | | | | | |
| | | | | | Flip Lid with Archive Base | | |
| | | | | | | | |
| | | | | | Front Tuck in Flaps with Archive Base | | |
| | | | | | Front Tuck in Flaps + Side Flaps with Lock in Base | | |
| | | | | | | | |
| | | | | | Front Tuck in Flaps + Side Flaps with Lock in Base | | |
| | | | | | Flip Lid with Archive Base | | |
| | | | | | Front Tuck in Flaps + Side Flaps with Lock in Base | | |
| | | | | | Flip Lid with Archive Base | | |
| | | | | | Flip Lid with Archive Base | | |
| | | | | | Front Tuck in Flaps with Archive Base | | |
| | | | | | | | |
| | | | | | | | |
| | | | | | | | |
| | | | | | | | |
| | | | | | | | |
| | | | | | | | |
| | | | | | Front Tuck in Flaps with Archive Base | | |
| | | | | | Front Tuck in Flaps with Archive Base | | |
| | | | | | Front Tuck in Flaps with Archive Base | | |
| | | | | | Front Tuck in Flaps + Side Flaps with Lock in Base | | |
| | | | | | Flip Lid Top / Flip Lid Base | | |
| | | | | | Front Tuck in Flaps with Archive Base | | |
| | | | | | Cake/Pizza Box Lock in Base / Flip Lid | | |
| | | | | | | | |
| | | | | | Flip Lid with Archive Base | | |
| | | | | | Flip Lid with Archive Base | | |
| | | | | | Front Tuck in Flaps + Side Flaps with Lock in Base | | |
| | | | | | Flip Lid with Archive Base | | |
| | | | | | Front Tuck in Flaps with Archive Base | | |
| | | | | | | | |
| | | | | | Flip Lid with Archive Base | | |
| | | | | | Flip Lid with Archive Base | | |
| | | | | | | | |
| | | | | | Front Tuck in Flaps + Side Flaps with Lock in Base | | |
| | | | | | Front Tuck in Flaps + Side Flaps with Lock in Base | | |
| | | | | | Front Tuck in Flaps with Archive Base | | |
| | | | | | Front Tuck in Flaps with Archive Base | | |
| | | | | | | | |
| | | | | | | | |
| | | | | | Front Tuck in Flaps with Archive Base | | |
| | | | | | Flip Lid with Archive Base | | |
| | | | | | | | |
| | | | | | Front Tuck in Flaps with Archive Base | | |
| | | | | | Front Tuck in Flaps with Archive Base | | |
| | | | | | Front Tuck in Flaps + Side Flaps with Lock in Base | | |
| | | | | | Front Tuck in Flaps with Archive Base | | |
| | | | | | | | |
| | | | | | Front Tuck in Flaps with Archive Base | | |
| | | | | | Front Tuck in Flaps + Side Flaps with Lock in Base | | |
| | | | | | Front Tuck in Flaps with Archive Base | | |
| | | | | | Self Locking Glue Flap w/snap lock base | | |
| | | | | | Flip Lid with Archive Base | | |
| | | | | | Flip Lid with Archive Base | | |
| | | | | | Front Tuck in Flaps + Side Flaps with Lock in Base | | |
| | | | | | | | |
| | | | | | | | |
| | | | | | | | |
| | | | | | Front Tuck in Flaps + Side Flaps with Lock in Base | | |
| | | | | | Front Tuck in Flaps + Side Flaps with Lock in Base | | |
| | | | | | Flip Lid with Archive Base | | |
| | | | | | Front Tuck in Flaps with Archive Base | | |
| | | | | | Flip Lid with Archive Base | | |
| | | | | | Front Tuck in Flaps + Side Flaps with Lock in Base | | |
| | | | | | | | |
| | | | | | Front Tuck in Flaps + Side Flaps with Lock in Base | | |
| | | | | | | | |
| | | | | | Front Tuck in Flaps with Archive Base | | |
| | | | | | Flip Lid with Archive Base | | |
| | | | | | Front Tuck in Flaps with Archive Base | | |
| | | | | | Front Tuck in Flaps + Side Flaps with Lock in Base | | |
| | | | | | Cake/Pizza Box Lock in Base / Flip Lid | | |
| | | | | | Cake/Pizza Box Lock in Base / Flip Lid | | |
| | | | | | Front Tuck in Flaps + Side Flaps with Lock in Base | | |
| | | | | | Front Tuck in Flaps + Side Flaps with Lock in Base | | |
| | | | | | Front Tuck in Flaps + Side Flaps with Lock in Base | | |
| | | | | | | | |
| | | | | | | | |
| | | | | | Front Tuck in Flaps with Archive Base | | |
| | | | | | Front Tuck in Flaps + Side Flaps with Lock in Base | | |
| | | | | | Front Tuck in Flaps + Side Flaps with Lock in Base | | |
| | | | | | Cake/Pizza Box Lock in Base / Flip Lid | | |
| | | | | | | | |
| | | | | | | | |
| | | | | | Cake/Pizza Box Lock in Base / Flip Lid | | |
| | | | | | Flip Lid with Archive Base | | |
| | | | | | Front Tuck in Flaps with Archive Base | | |
| | | | | | | | |
| | | | | | Flip Lid with Archive Base | | |
| | | | | | Front Tuck in Flaps + Side Flaps with Lock in Base | | |
| | | | | | | | |
| | | | | | Front Tuck in Flaps + Side Flaps with Lock in Base | | |
| | | | | | Flip Lid with Archive Base | | |
| | | | | | | | |
| | | | | | Front Tuck in Flaps with Archive Base | | |
| | | | | | Front Tuck in Flaps + Side Flaps with Lock in Base | | |
| | | | | | Front Tuck in Flaps with Archive Base | | |
| | | | | | | | |
| | | | | | Front Tuck in Flaps + Side Flaps with Lock in Base | | |
| | | | | | Front Tuck in Flaps + Side Flaps with Lock in Base | | |
| | | | | | Front Tuck in Flaps + Side Flaps with Lock in Base | | |
| | | | | | Front Tuck in Flaps + Side Flaps with Lock in Base | | |
| | | | | | Flip Lid with Archive Base | | |
| | | | | | Front Tuck in Flaps + Side Flaps with Lock in Base | | |
| | | | | | Front Tuck in Flaps + Side Flaps with Lock in Base | | |
| | | | | | Front Tuck in Flaps + Side Flaps with Lock in Base | | |
| | | | | | Front Tuck in Flaps + Side Flaps with Lock in Base | | |
| | | | | | Front Tuck in Flaps + Side Flaps with Lock in Base | | |
| | | | | | Front Tuck in Flaps + Side Flaps with Lock in Base | | |
| | | | | | Front Tuck in Flaps + Side Flaps with Lock in Base | | |
| | | | | | | | |
| | | | | | Front Tuck in Flaps + Side Flaps with Lock in Base | | |
| | | | | | Front Tuck in Flaps + Side Flaps with Lock in Base | | |
| | | | | | Cake/Pizza Box Lock in Base / Flip Lid | | |
| | | | | | Front Tuck in Flaps + Side Flaps with Lock in Base | | |
| | | | | | Flip Lid with Archive Base | | |
| | | | | | | | |
| | | | | | Front Tuck in Flaps + Side Flaps with Lock in Base | | |
| | | | | | Front Tuck in Flaps + Side Flaps with Lock in Base | | |
| | | | | | Cake/Pizza Box Lock in Base / Flip Lid | | |
| | | | | | Flip Lid with Archive Base | | |
| | | | | | Front Tuck in Flaps with Archive Base | | |
| | | | | | | | |
| | | | | | | | |
| | | | | | Front Tuck in Flaps + Side Flaps with Lock in Base | | |
| | | | | | Front Tuck in Flaps + Side Flaps with Lock in Base | | |
| | | | | | | | |
| | | | | | Front Tuck in Flaps + Side Flaps with Lock in Base | | |
| | | | | | Flip Lid Top / Flip Lid Base | | |
| | | | | | Front Tuck in Flaps + Side Flaps with Lock in Base | | |
| | | | | | | | |
| | | | | | Front Tuck in Flaps + Side Flaps with Lock in Base | | |